5 Benefits Of A Cot Mobile For Baby Development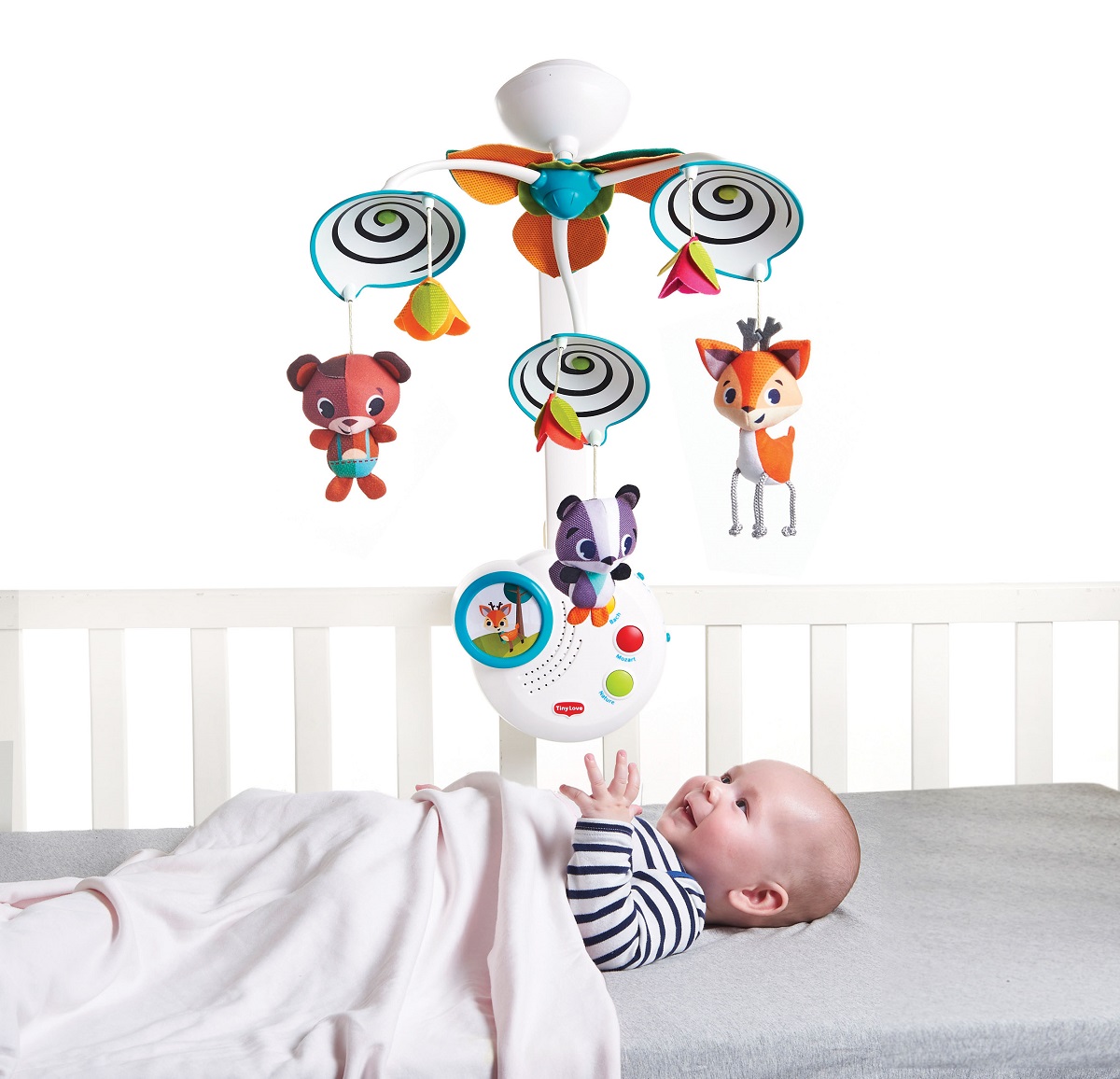 Decorating the nursery is one of the most enjoyable parts of preparing for your new baby. Deciding upon a theme or colour palette for the room is both fun and exciting and when you start to decorate, the realisation that you're going to be a parent really comes to life.
From deciding on which cot to buy to the decor to include, you'll put a lot of thought into creating a space that's beautiful, welcoming and comfortable for your new bundle of joy to sleep in.
Whether your new baby will sleep in their own nursery from day one, or in a cot in your bedroom, you can add some comforting touches to their cot to make their time in it cosy, safe and interesting.
Cot mobiles are not only decorative touches to baby nurseries though. During the time that babies spend in their cot awake, they'll be taking in a lot of the world around them and a cot mobile can give them added stimulation.
Did you know that a baby cot mobile can help aid baby's development?
In fact, a baby mobile can often be placed above the baby's head in either a cot or stroller.
We're sharing the ways that adding a mobile to your baby's cot can help keep them occupied and stimulate their brain and physical development at the same time, plus some of the great benefits of our range.
5 ways a cot mobile can help baby development
1. By providing visual stimulation
From a young age, babies start to process what they see around them. Baby mobiles hang over a baby's cot with various toys attached. There are many on the market these days and are available to match most nursery themes and colour palettes.
Baby cot mobiles might include hanging toys such as animals and flowers amongst other decorative objects. Some mobiles are static whilst others have the ability to rotate and even play soothing music to your baby when turned on. The music might play continuously or on a timer.
The Into the Forest Classic Baby Mobile has engaging black and white spirals to stimulate baby's visual cognition. This would make a great gift idea for a new baby too.
These mobiles come in an array of colours and music options that help babies to focus on the different objects as well as learning to concentrate on them.
Suitable from birth to 24 months, the Peek-a-boo Baby Mobile has an innovative hide-and-seek development dual motion to offer a baby fun and stimulate their senses.
2. Motor Skill Development
When a baby is looking up at their mobile, they are watching how it turns and moves and follows this movement with their eyes.
While looking up to their cot mobile, a baby can also start to develop the ability to judge distances and spatial awareness, as the objects move towards and away from their eyes.
As your baby grows and their movement develops, reaching up for the mobile toys help them to master hand-eye coordination - or foot-eye coordination!
Their gross and fine motor skills will develop over time, as they watch, explore and play.
It's recommended to raise or remove the mobile when babies are able to sit up themselves to prevent any accidents from happening.
3. Sleep
A musical cot mobile can play soothing lullabies, or even white noise, to help relax your baby and lull them to sleep. Help with baby sleep is top of most parent's wish lists!
As you develop a consistent bedtime routine for your little one, turning on the baby mobile might be the final step before you leave the room and they drift off to sleep.
Many babies love routines and knowing what is coming next and, over time, might learn to understand that when their mobile is turned on, this means that it's sleep time.
The Soothe n Groove Mobile has 18 tunes in six music categories to soothe and relax your baby during the day or at bedtime.
The presence of a cot mobile can be very comforting to babies too, in the same way that their favourite toys are. When they awake in the morning and see the familiar sight of their mobile, it will help to relax them. It might give you a little more snoozing time if they're occupied while waking up too!
4. Accuracy and Consistency
Over time, the practising your baby has done in pointing and reaching for the toys that interest them will start to pay off. They'll start to become more accurate and this will translate to how they aim for and grab other objects they see, developing their grasping reflex over time.
As they repeat the movements of reaching for and grasping objects, they will also be strengthening the muscles that control eye movement at the same time.
Over time, they will learn to distinguish colours, objects and sounds.
For animal themed nurseries, the Tiny Love Into The Forest Classic Baby Mobile plays tranquil music with bright and bold animals of differing sizes for them to reach for.
5. Help prevent boredom
If your cot mobile has toys that can be switched around, shuffle them occasionally. Changing the order or arrangement of mobile toys gives your baby a change of scenery and they will love being able to explore all over again!
A cot mobile is a beautiful addition to your nursery, is easy for parents to operate and can greatly benefit your baby's development.
It's essential to install the mobile correctly so make sure to follow instructions carefully to ensure the safety of your baby.
You can check out the Mother's Choice website range of cot mobiles here.